Date/Time
Date(s) - 02/14/2020 - 02/15/2020
5:00 pm - 1:00 am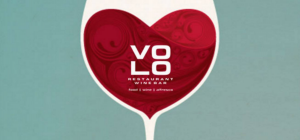 Valentine's Day is the perfect occasion to find out why Volo has been rated among Chicago's Top 10 Most Romantic Restaurants and Top 10 Most Notable Wine Lists.
Located in a boutique storefront in Chicago's charming Roscoe Village neighborhood, Volo is celebrating delivering cozy/chic design elements with urban/vintage charm for 15 years in our year-round indoor/ heated outdoor space and acclaimed #1 Hidden City Patio (ChiMag).
Guests can enjoy a romantic dinner and decadent dessert paired with their selection from over 30 boutique wines by the glass, half glass, mini-carafe, or bottle.
Chef/Partner Stephen Dunne's full menu of sublime seasonal small plates, charcuterie, salads, mains, artisan cheeses, and desserts will be available a la carte, plus there will be a special Valentine's Prix Fixe Menu available with boutique wine pairings (optional). A full bar is also offered.
– – –
Optional 3-Course Prix Fixe Menu
First Course:
Lobster Bisque; porcini mushroom crème fraîche; Wine Pairing: 2017 Talbot, "Kali Hart" Chardonnay, Monterey, California
>or<
Chicory, Endive & Arugula Salad; pickled red onion, toasted sunflower seeds, tart mustard dressing (v, gf); Wine Pairing: 2017 Dopff Au Moulin, Pinot Blanc, Alsace, France
Second Course:
Duck Confit; bacon brussels sprouts & lentils, roasted apple sauce, red wine glaze (gf); Wine Pairing: 2017 Maison Yves Chaley, "Les Rousselots", Hautes-Côtes De Nuits Rouge, Burgundy, France
>or<
Sautéed Arctic Char; stir fry bok choy, black "forbidden" rice, lemongrass curry  (gf); Wine Pairing: 2014 Jaffurs, Thompson Vineyard, Grenache Blanc, Santa Barbara Country, California
>or<
Seared Beef Tenderloin; blue cheese fingerling potatoes, red wine glaze (gf); Wine Pairing: 2016 Ghiomo, "Sansteu", Nebbiolo d'alba, Piedmont, Italy
>or<
Roast Vegetable Gratin; butternut squash, brussels sprouts, buttered breadcrumbs & parmesan (v, gf*); Wine Pairing: 2018 Jean-Baptiste Duperray, "Glou-Glou", Beaujolais-Village, France
Third Course:
Artisan Cheese Plate (choose two cheeses) with quince paste and lemon endive  (v, gf*); Wine Pairing: Warres, Heritage Ruby Port, Portugal (2.5 oz) *gluten-free sub rice crackers
>or<
French Apple Tart (for two); candied crust, caramelized apples, vanilla ice cream (v); Wine Pairing: 2017 Sarocco, Moscato d' Asti, Piedmont, Italy (two 5 oz flutes)
>or<
Salted Caramel Chocolate Mousse; shortbread cookies (v, gf*); Wine Pairing: 2015 Cascina Bonfante, Brachetto D'Acqui, Piedmont, Italy (2.5 oz) *gluten-free without shortbread cookies
3-Course Prix Fixe Menu $43 per guest
Wine Pairings Menu: $32 per guest
– – –
Reserve your table here.
**Please note we will have limited seating for walk-in clientele at our communal table and bar with a full menu available. Tables are limited to 2 hours per reservation due to the nature of the evening.
Volo is normally open Tuesday through Saturday night, and the kitchen will be open from 5:00 pm until 11:45 pm on Valentine's Day (bar and dining room open late based on business).
Thank You! – The Volo Team