Update: Due to the coronavirus, all restaurants & bars in Chicago are temporarily suspended from offering dine-in service. We wholeheartedly support this decision and agree that it is in the public interest. That said, in the meantime on select nights we are offering Pre-Order for Curbside Pick-Up & Delivery for Volo Family Meals (serves 4), along with Up to 50% Off Wine by the bottle. Please consider supporting our efforts during this time by ordering here, or by purchasing a digital Gift Card here  for later use – Use promo code vologift10 for 10% Off a minimum purchase of $100 – discount valid through April 7th). Our Sincere Thanks. – The Volo Team
Located in a boutique storefront just a mile and a half west of Wrigley Field and featuring an award-winning alfresco cabana patio, the space combines cozy/chic design elements with urban vintage charm. Volo makes enjoying food and wine easy, accessible, and un-intimidating… all in a relaxed neighborhood atmosphere.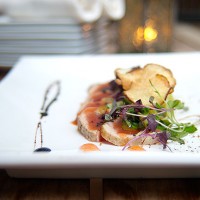 MAKE A FREE RESERVATION TODAY
Click
HERE
to make a reservation for Volo Restaurant Wine Bar via Tock. It will allow you to search available tables for today or in the future, make online reservations, pre-reserve any upcoming experiences, wine tastings, and wine dinners. **Volo will make every effort to honor any patio seating requests noted in your reservation, night of, on a first-come basis. Please note back patio tables may not be available select nights due to inclement weather and/or private events. Please view our click on the calendar below for highlighted events and shut-down dates, or call the restaurant to inquire about a specific date. Thank you.
[/vc_column_text]
Tour Volo and be sure to "walk" back to our #1 Hidden City Patio (Chicago Magazine).