Located in a boutique storefront just a mile and a half west of Wrigley Field and featuring an award-winning alfresco cabana patio, the space combines cozy/chic design elements with urban vintage charm. Volo makes enjoying food and wine easy, accessible, and un-intimidating… all in a relaxed neighborhood atmosphere.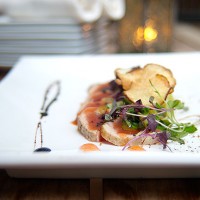 **Volo will make every effort to accommodate patio requests, but patio seating is offered on a first come basis, and may require a wait if available. Please note back patio tables may not be available select nights due to inclement weather and/or private events. Please view our click on the calendar below for highlighted events and shut-down dates, or call the restaurant to inquire about a specific date. Thank you.
Tour Volo and be sure to "walk" back to our #1 Hidden City Patio (Chicago Magazine).