Located in a boutique storefront just a mile and a half west of Wrigley Field and featuring an award-winning year-round alfresco cabana patio (#1 Hidden City Patio (Chicago Magazine), the space combines cozy/chic design elements with urban vintage charm. Volo makes enjoying food and wine easy, accessible, and un-intimidating… all in a relaxed neighborhood atmosphere.
Covid-19 Update: Volo is currently open for Outdoor Dining, in our #1 Hidden City Patio, Indoor Dining featuring open-air French Doors weather permitting, Carry-Out & Delivery, Volo Bodega "Grab & Go" – our ever-evolving market frequently offering Meal Kits, DIY Happy Hour Care Packages, Gift Baskets, Merchandise, and up to 50% off our curated list of wine by the bottle to go.
Current Hours: Now open Wednesday through Sunday nights (Tuesday service begins June 1st). Reservations recommended. Reserve here.
[/vc_column_text][/vc_column]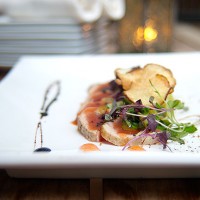 MAKE A RESERVATION TODAY
Click HERE to make a reservation for Volo Restaurant Wine Bar via Tock. It will allow you to search available tables for today or in the future, make online reservations, pre-reserve any upcoming experiences, wine tastings, and wine dinners.
Please note masks are required anytime not seated and actively eating or drinking. During this time while we have reduced capacity, all tables are limited to an hour and a half due to Chicago and CDC restrictions. If you or anyone in your party are experiencing any Covid-19 symptoms, or feel them coming on, it is their responsibility to stay at home for the safety of our staff, customers, and community. Thank you for your understanding!
**Volo will make every effort to honor any seating requests noted in your reservation (our ability to honor requests is based on party size, arrival time, seating capacity, and other reservations for that evening). Please click on the calendar below for highlighted events and shut-down dates, or call the restaurant after 3pm to inquire about a specific date or make a special request. Thank you.
Tour Volo and be sure to "walk" back to our #1 Hidden City Patio (Chicago Magazine).